Speech and Hearing News
15 Jun 2010. Cancelling the sound of the vuvuzela. The vuvuzela is a plastic horn played by spectators at World cup matches in South Africa. Broadcasters have received many complaints about its annoying buzzing tone. So this article looks at what could be done. Noice cancellation? Filtering?
6 Jun 2010. Paul E. Glott the speaking translator. A lot of fun to be had from this combination of machine language translation and multi-lingual speech synthesis.
1 Jun 2010. I was allergic to sound. Article in the Independent newspaper by a sufferer of hyperacusis.
1 Jun 2010. Ars Technica has a review of the Speech Dictation system that comes (free) with Windows 7.
22 Apr 2010. One-day workshop on Speech Recording and Analysis. This workshop has been jointly organised by the Institute of Acoustics Speech & Hearing Group and the UCL Centre for Human Communication. The workshop is designed to be of interest to speech and language therapists, teachers of the deaf, educational audiologists and clinical audiologists engaged in habilitation or research.
1 Mar 2010. New MSc in Language Sciences. UCL announces a new one-year taught MSc aimed to provide students with an opportunity for an in-depth study of one or more areas of the Language Sciences. The MSc in Language Sciences is an umbrella degree, with a number of specialisation strands that follow a common structure. All students on the programme will take a core set of modules but they will then have an opportunity to specialise in one specific area of the language sciences, such as language development or speech and hearing sciences, which is most tailored to their interest. Four departmental scholarships of £2400 will be available for students applying in 2010.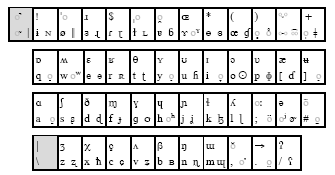 28 Jun 2009. Updated Unicode Phonetic Keyboard. Adds an alternative keyboard to Windows to aid the input of phonetic characters from a unicode font.